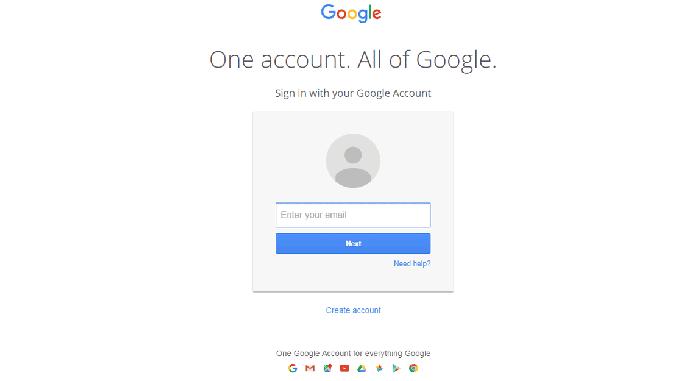 Gmail Sign In
Otherwise known as Google Mail, Gmail is an internet based email service that allows users to send, receive and store their emails online instead of a computer. The main advantage of web based email is that it allows you to view and respond to emails from any device that has an internet connection regardless of where you are.
The great thing about using products from Google, is that with just one account, you can use all of them and Gmail is no an exception. As such, to use Gmail, you will need to have a Google account and this tutorial will show how simple it is to sign up and login into Gmail.
Follow this tutorial to learn how to do Gmail Sign in.
Before you can be able to login to Gmail, you will need to have an account first.
*If you already have an account, launch your preferred browser and in the address bar, type mail.google.com (or click). This will redirect you to a page that looks exactly like the one shown below.

If you do not want to enter your data every time, check the option: «stay signed in». When you do it next time you will go directly to the inbox of your email without having to enter your email or password.

Another way to do it it is to open your browser and go to the page www.google.com. The main Google page has a menu bar at the top left corner of the page. Click on it to expand the bar then click on Gmail.
*If you don't have an GMail account yet, signing in won't be possible. You will first need to create an account and to do this, click on «Create an account».
Google requires some of your personal information in order to set up an account for you. Such information includes the first and last names. You will also be required to enter your preferred username e.g. example @gmail.com. It should be unique and not belong to someone else already.

In the event that you choose a username that's already in use by someone else, Gmail will notify you and even give you some suggestions that you could use. Whether you decide to choose one among the suggested usernames or type another one of your own is entirely up to you. Keep in mind that if you type another username, the system will again check for its availability. Some of the other boxes will have to be completed again and this is something that you may have to do a few times. Once you have finalized your email address, be sure to note it down just in case you forget it.




Click Next Step. This will take you to the Create Profile Page where you can upload your profile picture. If you don't want to have a picture of you online, go ahead and click 'Next Step' to complete setting up your Gmail account. Click Add Photo if you're okay with having a picture of you online the click 'Next Step' again.

With your account completely set up, you can go straight to your inbox and read any new mails you may have. When you need to log in, you will simply go to Gmail's main page, enter your username and password then click «Log In».
Gmail Sign In – Video Tutorial