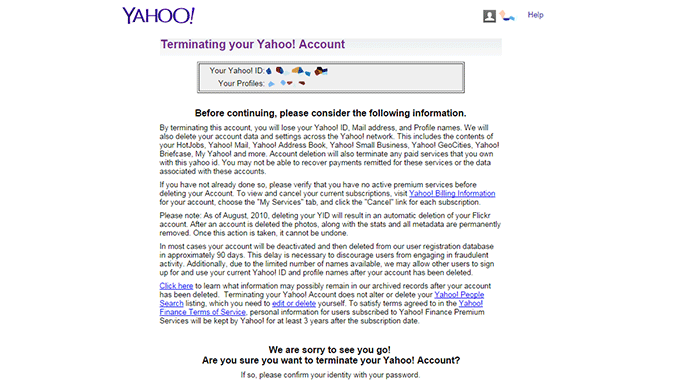 How To Delete Your Yahoo Mail Account
Yahoo mail is the oldest and one of the best webmail service available on the internet. You can use this service to manage your small business and institutions. But there are many other email providers available in the internet from which you can choose any of them. If you are not satisfied with the service provided by yahoo mail, then you can easily delete the account by following the below steps.
Many people loved using Yahoo as their mailing service due to its functionality and features. There are plenty of features which attract the customers toward this email service. However, if you are not satisfied with their service or want to use any other mailing service. Then it is important that you should delete your yahoo mail account. It is important to do because your data will not be used for any other malicious activity or process. So, if you are migrating yourself from one mail service to another. Then you should delete the old one completely.
Precautions Before Deleting Yahoo Mail Account
There are few things which you should kept in mind while deleting your mailing account. One important thing is that all your account information along with email id will be useless. You will not able to use that id for future use. All the contacts stored in your yahoo contact book will be deleted and lost. You will not be able to revert them back once you delete your account for permanent basis. All other accounts associated with your mailing address will become useless. So, always kept these things in mind before deleting your mailing account.
Steps To Delete Your Yahoo Mail Account
Here are the following few steps which you should follow to delete your yahoo mail account. Follow the steps one by one as mentioned and you will be successful in deleting the account. The process of deleting the account is simple enough that any normal computer user can easily delete the account without any trouble.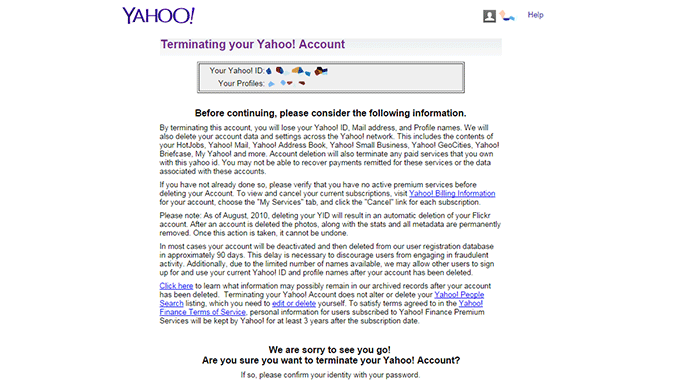 First of all, open your favorite browser like Google Chrome or Mozilla Firefox.

After opening browser, visit the

terminating your yahoo account

page to proceed further.

You will be prompted to sign in to your mailing account by entering username and password.

Enter your yahoo email address and password and click on sign in button.

After signing in, you will see a new page for terminating your account. Enter your email password in the box below where the password is demanded.

After entering password, enter the code shown in the figure below password field.

After entering code, the next step is to click on terminate this account button. Click on terminate this account button.

After clicking, you will be directed to a new page with heading of yahoo account terminated. You will have to wait for 90 days to completely delete all of your mails and data associated with your mail address.
Remember that your deleted account will be available for public to register again as a new account. So think twice before deleting any account.