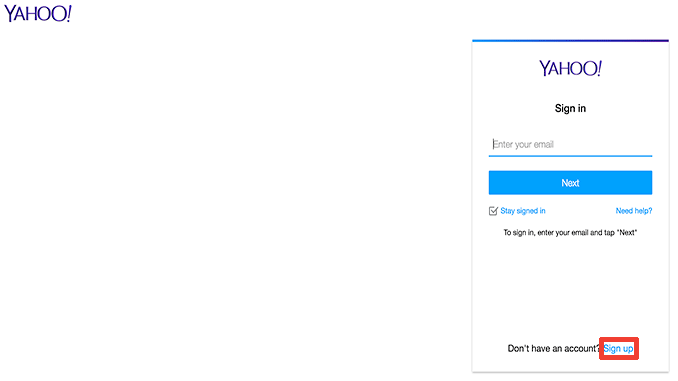 Yahoo! Mail Sign In
As one of the largest email service providers in the world, it's not a surprise that you have a Yahoo account or want to open your own and use it to pass or receive important information. The company is the main competitor of Gmail and contrary to what you may think, logging into Yahoo mail isn't that hard.
Before getting started, you will need to have access to a working internet connection. This tutorial will explain how you can Yahoo Mail Sign in for a new Yahoo Mail account or login in a already created Yahoo Mail account.
Yahoo Mail Login
If you already have created a Yahoo Mail account, we can look at how you can go about logging into it.
Go to mail.yahoo.com.
Enter your username e.g.

example@yahoo.com

as well as your password.
Click on the Sign In link.

Alternatively, you can choose to log in via your Gmail account. If so, click on the option on the sign in page and on the dialog box that appears, click on Allow then proceed. This will take you to your Yahoo Mail account.
---
Sign in for a new Yahoo Mail account
Open your browser and go to the main page of Yahoo Mail i.e.

mail.yahoo.com

. This will take to the main page of Ymail. It's important to note that the extension .com may vary depending on your current location e.g. .co.uk etc. But despite this slight change, your registration will not be affected.
Considering you don't have a Yahoo Mail account, click on «Sign Up». Look for a header that says 'Don't have an account?' It is located below the log in form. Click on the Sign Up link to get started on creating a new account. This will launch a form where you will be required some of your personal information.
Go down a bit and hit the registration button. Like most email service providers, Yahoo will need you to submit some of your personal information when setting up your account. Such information includes your first and last name, date of birth, country, sex, relationship status and optional phone number for recovery. You will also need to submit a unique username and password.
On the sign up form that appears, fill in the required information in the appropriate fields. Some of the information you're obligated to submit truthfully includes your first and last names, gender, date of birth, country and postal code. The display name can be changed later but as for your first and last names, they can't change.
Like Gmail, Yahoo will let you know if your preferred username is available for use and if not, it will give you a few suggestions. You can choose one of the suggested usernames or keep trying until you get a username that's unique.
One of the main disadvantages of using popular email service providers like Ymail is that with so many users, it's hard to find a username ID that's not already in use. For this reason, Yahoo has a 'Check' button where one can check for availability of their preferred username.


Type your preferred Yahoo ID or email and click on Check. If it's not available for use, try tweaking a little by adding a number, a character or use an ID that's not necessarily based on your name. Keep in mind that in most cases, Yahoo Mail will provide suggestions of username ID's you can use. Whether you decide to use one of those suggestions or keep looking is entirely up to you.
Once you have chosen username, the next step is to choose a strong password. Like Hotmail, Yahoo provides a strength bar that lets you how strong your password is. A mixture of uppercase and lowercase letters, characters as well as numbers makes even the shortest password very strong.
It's important to supply a valid alternate email address as this is the primary method used by Yahoo Mail to recover your account. You can also choose a secret question and provide a valid answer. The information you submit at this stage is vital hence the emphasis on remaining honest.
The final step is to confirm you aren't automatic software or a robot by solving a captcha code then clicking on 'Create my Account.' You are now set to go.

Once you have created your email account successfully, you will be led to a page notifying of that.
Yahoo Mail Sign in – Video Tutorial
In addition to creating a new Yahoo Mail account, you can also opt to link your Gmail account to Yahoo and in this case, your username for Gmail will be the one you use for Yahoo.