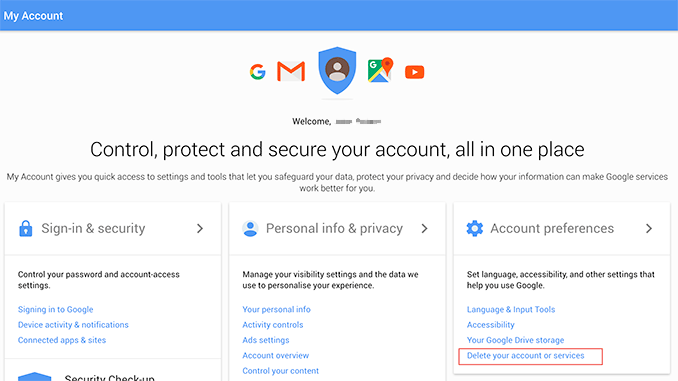 How To Delete Your Gmail Account
Gmail is the best webmail service providing company from internet market big giant Google. There are many internet users using it as their primary mailing source. If due to any reason you want to delete your Gmail account, then this article will help you to do so in simple steps. Just follow the steps and successfully remove your account.
Reasons To Delete Account
There would be multiple reasons for deleting an account. Here are some of the major ones.
Too Many Accounts. The first reason maybe is that you may have two or more than two accounts and willing to delete one of them. This is the most common reason to delete the account.
Gmail Security Issue. The second reason maybe the security of Gmail. Recently, there was news that some Gmail account details could being hacked by hackers. It is always a good idea to change our passwords occasionally. So, this may be the reason you are deleting your account.
Simply want to create a new one. Either because we receive a lot of spam or we have simply found a new gmail address that we like the most.
Precautions Before Deleting Gmail Account
Before proceeding towards the real issue, let me tell you some precautions before deleting your email account. Always keep in mind that all of your contact list will be lost and everything in your inbox, sent items will be deleted. There will be nothing left in your mail. So, always save the important contacts before deleting your account.
Steps To Delete Your Gmail Account
Here is the step by step procedure to complete your task. If you want to do this without any issue, then follow the steps one by one and you will get succeeded.
The first step is to open your favorite browser like Google Chrome or Internet Explorer.

Then go to

Google Account Settings

page.

If you are not logged in to Gmail, then first log in by entering your email id and password.

The next step is to proceed towards data tools page.

Now click on Delete products link placed under account management section.

After that, click on Remove Gmail permanently.

There will be another option similar to remove Gmail account that is Close account. By opting this option, you're all associated information and accounts will be deleted along with your Gmail account. So, it is up to you. You can choose any of the one option you want to proceed with. If you choose remove account, then only account will be deleted. But if you choose close account, then all other services associated with your mail will be deleted.

After this step, make sure that Yes, I want to delete account permanently is checked.

Now, enter any other email address which is not associated with your currently processing account. Make sure you can access that associated email id because it will be used to complete the process of deletion.

Now enter your Gmail account password under the password field. Then click on remove Gmail.

Now a confirmation email from Google will be sent to your associated email id. Open that link and enter your password in the given field.

After entering password, click on verify and then on Submit. That's it. You are done. You have successfully deleted your Gmail account.