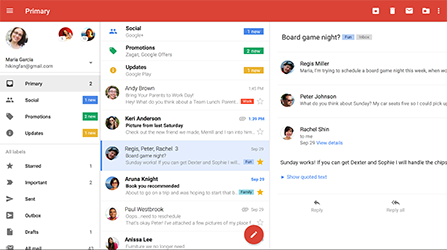 Whether you're using a mobile device with an Android or iOS operating system, you should know that it is possible to set up Gmail on your device. Today, we're going to walk you through the process, so that it's really easy to understand. We want you to to be able to get Gmail up and running on your preferred device, without needing to visit a bunch of different websites in order to find the information that you need in order to get the job done.
Without further ado, let's talk about the best way to set up Gmail on Android and iOS.
Gmail for Android Instructions
Setting up Gmail for Android is actually really easy. The email app is available from the Google Play store and installing it will be quick and simple. Once you've added the application to your preferred Android mobile device, you'll be ready to enjoy plenty of perks and advantages.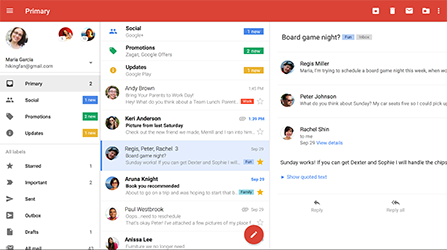 For example, this app is designed to help you access your emails in Gmail easily and instantly. You'll access notifications (pushes) and be able to respond to messages whether you're online or offline. As well, you'll be able to search for messages, so it will always be easy to find what you need. As well, you'll find that this app makes the process of getting organized very simple and straightforward.

For example, you will find that social-type messages are grouped in categories. This grouping also applies to promotional posts. This means that you'll be able to see the most important messages, from work contacts or family and friends, before wading through the social and promotional stuff.
As well, you'll like the anti-spam features found in this app. Gmail does block spam before it has a chance to clog up your inbox. As well, Gmail will provide you with fifteen gigabytes of storage which is one hundred percent free to access. This is the reason why most people don't bother deleting their Gmail messages too often.
Lastly, you'll be able to access account support and utilize non-Gmail and Gmail addresses via your app.
In terms of getting the app, just visit Google Play and then select it and install it. The system on your mobile device will do the rest. As you can see, you won't need to jump through a lot of hoops in order to get this app up and running. It's just so simple to do and millions of people use Gmail for Android devices.
Gmail for iOS Instructions
To add Gmail to your iPhone, you'll need to download the official Gmail application from the Apple App Store here. You may access this store directly from your mobile device. This app is easy to download it. Just select the app and then install it on your iPhone or other iOS device.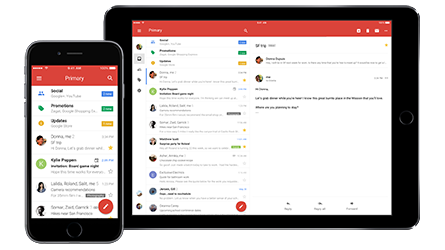 When you choose this app, you'll find that you get all of the best features of Gmail on your device, along with some extra perks, such as notifications in real time and access to multiple account support. In addition, you may search within Gmail in order to find exactly what you need.

Some new features are available in the newest version of the Gmail for iOS app. One great feature which is new is the Undo Send feature. It comes in handy when a message gets sent to the wrong recipient. As well, this app will give you the capacity to switch into an array of accounts. Also, your notifications will come instantly and you'll have the power to use badges and lock screen elements, too.

You may also hide the pictures of senders if you want to, and use a swipe right movement in order to get things done while in Gmail.
Since it's so simple to get and use this app, why not download it today? You don't have to follow a lot of complicated steps in order to use Gmail on your smart phone or other Apple device. You just have to click on an app and then let your device do the rest. Once this app is up and running, you will find that it's very easy to use.
Why Not Install an App Today?
Now that you know just how easy it is to find this type of Gmail app and install it on your iOS or Android device, you'll be able to enjoy all of the features of Gmail on your device, plus a range of features which are just for those who use the apps.
You won't need to pay to download these apps. The team at Google want you to be able to access the app for free. With this in mind, why not install the app right now? Within just a couple of minutes, you'll be able to use Gmail on your phone and enjoy all of its benefits and features.