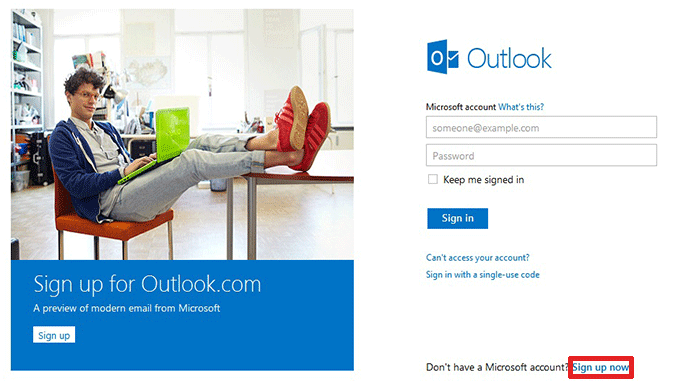 This post will explain how you can enter to your Hotmail account.
The Hotmail Login page allows users to log into their email accounts as well as control how long they would like to stay logged. Some email clients such as Windows Live Hotmail does not require users to always re-enter their usernames and passwords unless they change their credentials. This is because they provide applications that can be downloaded and installed on computers. However, when using a browser, you can always click on the 'Keep me signed in' option to avoid re-entering your credentials every time you need access to your email. With that in mind, let's look at how to login to your Hotmail account.
Go to the login page
The hotmail login page can be accessed by visiting outlook.com or hotmail.com. On opening the page, you will see the sign in form just in the middle of the page. If you don't see the form, it means that your account or someone else's is already signed in. If someone else's account is signed in, simply click on the person's name on the right corner of the page and from the dropdown menu that appears, click 'Sign Out.'

Enter your credentials
Type your username under Microsoft account or rather your full Microsoft email address e.g.

example@hotmail.com

.
Proceed to enter your password and remember that this is case sensitive. This means that «capital letters and lowercase letters are considered different».
If you want, you can check the 'Keep me signed in' checkbox. This will allow you to automatically log into your hotmail account anytime you need to. However, this is not something you should do if the device/computer you are using is public or shared for security purposes.
Click sign in
Once you are done entering your email and password, go ahead and click 'Sign In' to access your email Hotmail account. That's it.
---
If you don't have an Hotmail account yet
While it's a process that only requires a few minutes to accomplish, finding a username that's not already in use is a challenge sometimes.
Go to the sign-up page
The first step when you sign in Hotmail is to visit the Microsoft account registration page which can be found at this address: signup.live.com. You will see a sign in form once the page opens. If someone's account is already signed in, click on their name on the top right hand side corner and hit Sign Out from the drop down menu that appears. You will be led to the sign in form. Under the 'Sign in' link, you will see a 'Sign up' link. Click on it to get started.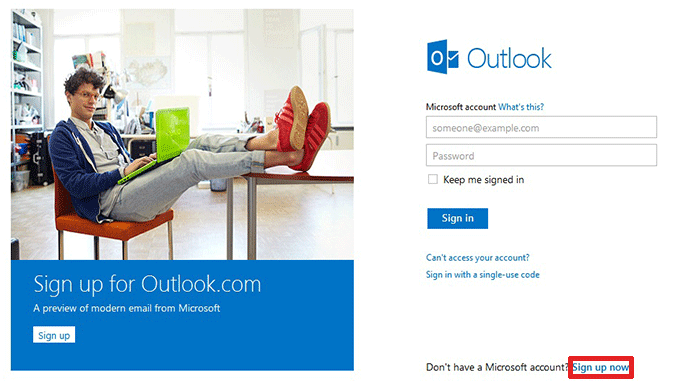 Enter your information
You will be led to a form where you will be required to enter some of your personal information. Your first and last names, gender and date of birth are some of the information you are obligated to submit. It's important to ensure that you provide the right information as you may be required to resubmit it during the password recovery process.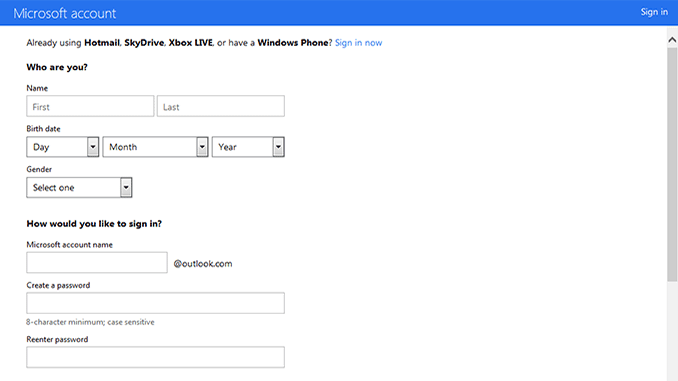 Sign in preferences
The next step is to choose your preferred username ID and password. Again, your username should be one that's not already in use. It's also important to understand that Microsoft provides a few limitations when it comes to your choice of username. One, usernames that are already taken and certain keywords such as brand names are prevented from being used as usernames to avoid confusion as well as spamming. Under 'Microsoft Account Name,' type your preferred username. The system will let you know if it's available for use. If not, you can choose one among the suggestions given or you can keep trying until you identify one that's available. The username can only contain letters, numbers and certain characters like underscore, hyphen and period. If you the username you want to use is already taken, try using another domain like outlook.com.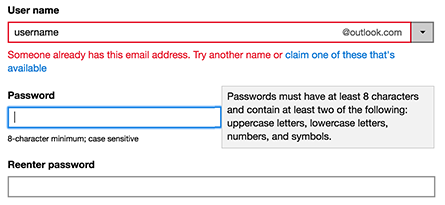 The password should contain at least eight characters and be a mix of uppercase and lowercase letters, numbers, as well as symbols. This makes it hard for potential hackers to guess your password. Again, your password is case-sensitive.
Hotmail Sign In – Video Tutorial
Password reset information
You will then be required to enter your password reset information and this includes an alternate email as well as a security question.
Enter your country information
The next step is to provide the name of the country you live in, as well as the zip code.
Prove you aren't a robot
Solve the captcha code to prove that you are a legit human being and not a robot or a spammer who is trying to sign up for an account automatically and end up sending up other users junk mail.
Review the terms of agreement and service then click I Accept to gain access to your new Hotmail account.