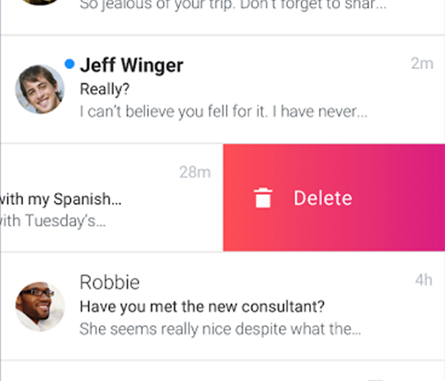 Setting up Yahoo Mail on your Android or iOS device shouldn't take long and doing so will be a great way to enjoy all of the features and benefits of Yahoo Mail while you use your preferred mobile device. To help you get the inside scoop on Yahoo Mail and how to set it up properly, we've put together a comprehensive and detailed guide.
When you follow our clear and detailed instructions, you'll be one step closer to enjoying Yahoo mail when you're enjoying your mobile device!
Set Up Yahoo Mail via iOS
If you are running an Apple device, you'll need to set up Yahoo Mail via iOS. To do this, go into the iOS email application. Find the Settings area and then enter the Mail area. Once you're there, hit, «add account». Next, tap «Yahoo».
After you do this, put in your email address for Yahoo Mail. Also, add your password for that account. Once you've done so, hit «sign in». If you like, stop elements of Yahoo Mail from being synced. Once you've completed these steps, hit «save».
Once you've done this, you should be free to access Yahoo Mail via your iOS Mail application.
Set Up Yahoo Mail via Android
To accomplish this task, you'll need to use your Android Mail application. Once you're inside of the app, you'll need to hit the Menu button and then tap the Settings button. After you do this, you should hit the «add account» button and then hit, «email».
Once this step is complete, put your entire Yahoo email address into the system. You'll also need to add your password. After you do this, hit «next». To continue the setup process, adjust the sync settings and hit, «next». Lastly, put in your preferred display name for your outgoing email communications and then hit, «next».
Option 2: Download Yahoo Mail app for your device
The other option to be able to use your yahoo mail account in your Android or iOS device it is to directly download the app for your mobile:
Why Choose the Yahoo Mail Program?
There are so many excellent reasons to opt for the Yahoo Mail program, versus other popular email programs. One key feature which most people consider a big advantage is the chat room tab, which opens up as soon as the program is logged into. It allows for chats with people on contact lists and this may be very fun and convenient.
As well, when you choose Yahoo Mail, you'll access storage which is unlimited. With other programs, including Hotmail and Gmail, storage is limited. However, Yahoo is careful to flag accounts which abuse their Terms of Service, so we recommend that you read up on these terms before you sign on for this email service, or brush up on the terms if you already have an account.
If you do know the rules, you should be able to access tons of benefits easily, without any drawbacks.
Yahoo Mail also offers a practical calendar which is feature-packed and very easy to access and use. If you need a little help to stay organized and make sure that you don't forget upcoming events, you'll find that this handy calendar makes it very simple to stay organized.
As well, Yahoo Mail comes with a Notepad feature, so you'll be able to jot information down virtually when you want to.
This email program has all of the features that most people need. Plus, it's easy and pleasant to use. This is why so many people make the decision to add the program to their iOS and Android mobile devices.
Hopefully, our instructions have demystified the process. We believe in Yahoo Mail as it's so practical and we want mobile device owners to be able to access this email program without any hassles of headaches. As you can see, following just a few simple steps will make it easy for you to enjoy everything that Yahoo Mail has to offer.
Install This Email Program Today
Now is a great time to install Yahoo Mail on your preferred mobile device. It's really the key to enjoying one of the world's best email platforms. After you've followed our instructions, you'll find that staying in the loop with friends, family and colleagues, via email and chat, is a total breeze.
We recommend installing this program on all of your mobile devices. It's the smartest way to ensure that you never miss an email while you're using mobile devices, such as smart phones and tablets. After you've installed the program, you'll be able to use email just like you do on your own home computer.