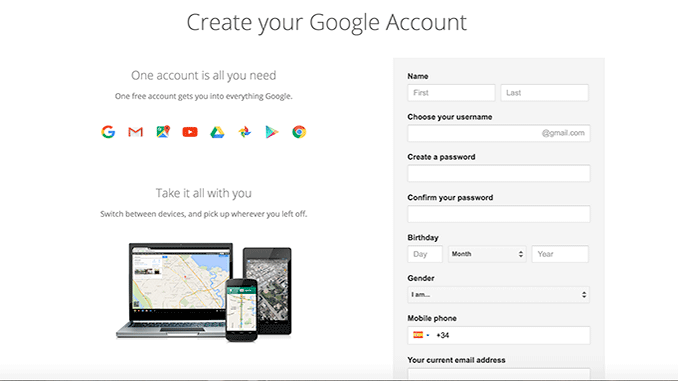 How To Create A Gmail Account
Gmail is a free, web-based email service, which is accessible from any Web browser anywhere in the world (just need internet connection). Google first introduced Gmail in 2004 and limited test accounts were made available in 2005.
Sign up for Gmail and make it Your Online Home
Today, it can be difficult to determine what is more important, a physical home or an email address? As far as the sheer volume and importance of correspondence, in most cases, the online version is utilized much more frequently.
When creating an email account or switching to another service, the number of sites to choose from can seem overwhelming, but one of the most popular providers is Google. One of the reasons millions of users all over the world choose Gmail is the ease of creating a new account or signing with an existing address.
Google has made it easy to sign up for Gmail and join the world wide web.
To sign up for Gmail, you will need to create a Google Account to access multiple Google services as Gmail (Google Mail Service). Create Gmail Account is free, see how.
Follow the below step to sign up for a Google account.
Go to Gmail homepage: mail.google.com (click here).
Click on the "create account" button below the sign in form. The signup form will appear.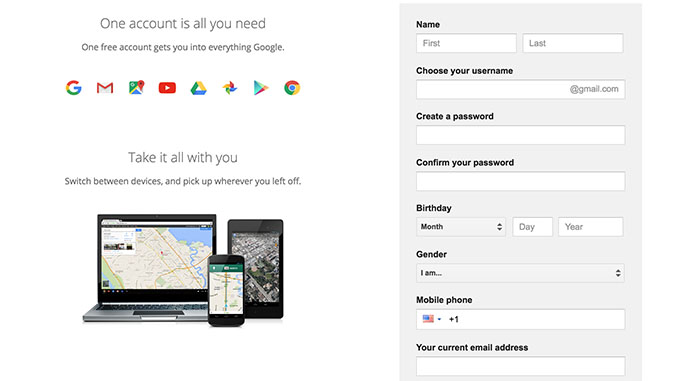 The first step is always entering some basic information and then creating a unique name for the new account.
For you to be able to create a new Gmail account, you will need to enter some personal information, including: Name, Birthdate, and gender.
Entering your first and last names may seem straightforward but often times users are creating second accounts on behalf of an organization or employer. In that case, there are special business accounts that include additional features or it's possible to include a corporate name or title as part of the standard entry form.
You will have to pick your Gmail account "Username". This will be used to create your unique email address «username@gmail.com». Some usernames may not be available if the username you chose is not available anymore (usernames need to be unique), Gmail will tell you, and you will have to choose a different Gmail account name; Google will also suggest you available name.
Importantly, it's important to consider the primary use for the account when selecting an account address.

If the account is for business purposes, then it's generally a good idea to keep the name rather bland or follow an established format such as: firstinitial.lastname.organization@gmail.com. Not only will this appear more professional, it also allows contacts to easily locate your address and may reduce the chances of an email being flagged as spam incorrectly.

For personal accounts, people create all sorts of crazy titles to show off an aspect of their personality or generate a unique name that hasn't already been used. Before choosing a funny or original address for an email take some time to consider the possible future use for the account. Even if it seems like a good idea now, there may be a time when the name isn't such a knee slapper or may even leave a bad impression among prospective employers as well as peers.
Choose your password: Keep your account secure. Try to chose an unforgettable, but a secure password. Google may explain that you should try one with at least eight characters long to be secure. You'll need to re-enter your password to ensure that you write it correctly.
Gmail will require new users to generate a unique password. There are constraint, such as including a capital letter, number, or special character, but these are designed to enhance security not make your life more difficult. It can sometime be a struggle to come up with a strong one but thankfully there are many sites or tools that allow users to easily generate new log in credentials as well as securely store multiple passwords for different sites in the same place. Once the account is active, it is generally recommended that users change the password every 6-8 months.
Fill "Your current email address" field, if you have an address associated with another email service provider (if not, leave the space in blank). It is used for recovery if you forget and want to recover your password.
You will also ask to insert a 'Captcha' code, a verification tool that ensures that is not a bot is creating the account. Complete the 'Captcha'. If you can't read it, click the refresh button next to the text field to get an other one, or click the speaker button. You can skip this step, but if you do it, you will need to verify your account via a mobile phone number you provide (for free).
Gmail requires a cell phone number in order to complete the registration process. While many users are understandably concerned with privacy, this is intended to help users easily retrieve or reset account information as well as allow Google to contact the user if there is ever any suspicious activity. For the same reason, the application form also requests any additional email addresses that may be in use by the same user but this information is not required as for many, the new Gmail account may be the only one.
Select your current location.
Review and Accept Google's Terms of Service and Privacy Policy.
Finally, click on "Next step" button and you will be asked to complete your user profile. It is up to you whether you want to do that or not.
Congratulations, you have now created your new Gmail account which you can now send and receive email and access all other Google service. However, there are additional steps that users may wish to complete in order to include more information. Gmail allows users to select a unique theme, essentially a background image, that will show up on the homepage. There are hundreds of stock images to choose from or import one of your own.
» If users have contacts stored on other accounts or in the cloud, Gmail makes it easy to sync with the new address. Simply enter the old account info and follow the steps to import existing contact lists or email chains.
Today, most emails are read on a device other than a computer. Due to its size and knack for innovation, Gmail has been able to create the most widely used mail app. Don't have an Android powered phone? No worries, Gmail is available for download on IOS as well as other operating systems.
After creating an account, simply enter the Gmail website url: gmail.com in the browser's address and login to your Gmail account by typing in your username (youremail@gmail.com) and password.