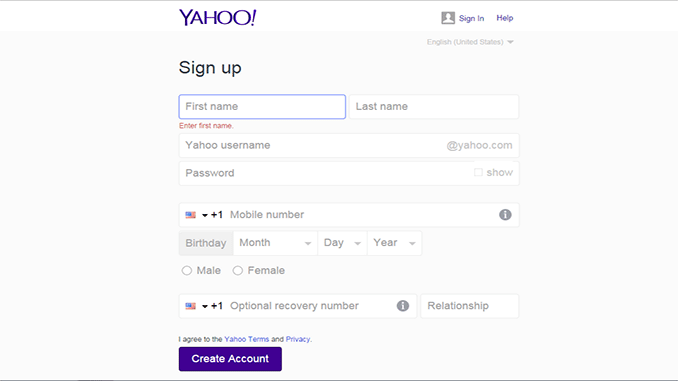 There's Never Been A Better Time To Sign up For Yahoo Mail
As one of the largest email service providers in the world, it's not a surprise that you want to create your own Yahoo Mail account and use it to pass or receive important information. Yahoo Mail is a free email service but the main reason to be very used worldwide it's because it provides more mail storage than any other service, a very good mobile support as well as apps for iOS and Android devices, and many others features that you can quickly access through your inbox. Another thing about Yahoo's accounts is that you can easily personalize your inbox with unique themes, and also organize your mail in a better way for you.
Yahoo was a pioneer in introducing email to a mass market and they are still perfecting it today.
Users can now enjoy access from anywhere as well as synchronization with different products or sections of the Yahoo app. Thankfully, even with all the improved functionality, its still just as easy to sign up for Yahoo mail.
Yahoo is one of the most visited sites on the internet. Email is one of the features that draws millions of unique visitors and keeps them coming back daily or even hourly. That is because Yahoo has developed one of the most advanced yet easy to use systems available online and it is entirely free for first time users.
How To Create A Yahoo Mail Account
New technology can often be intimidating. Thankfully, Yahoo mail has made it convenient and simple to set up an account from a computer, phone, or tablet. Simply visit the site, scroll over to the mail section, and select the «Yahoo mail sign up» option to get started.
Here's how to go about the creation for a new Yahoo mail account.
Yahoo Mail sign up process
A field will appear where users will be asked to provide some basic information. Deciding if an account is personal or professional will enable the user to complete the first steps of the registration process. New arrivals will be asked to provide their first and last names. For an individual this is straightforward however for business accounts, it is usually important to include the name of the organization as well.
Type your 'First name' in the first field box.
Type your 'Last name' in the second field box.
Choose your new username. That is your email address (@yahoo.com). The name can only contain numbers, letters, periods, and underscores. If your username is already taken, Yahoo offers you a few username suggestions. If you do not like them, you can type in one that suits you.
This is where having an idea of how the account is to be used becomes critically important. While a name may seem funny or relevant right now, chances are that in the future it may be less entertaining or could even cause embarrassment when shared publicly. For this reason, it is necessary to use discretion when selecting the name for a new email address.

For example, the following format options will be familiar to anyone who uses email on a regular basis: first initial. last name@yahoo.com or last name. company name@yahoo.com. For those with generic names or who work at large corporations, consider including numbers as well as special characters to make your address unique and avoid confusion.
Create a new password for your Yahoo Mail account. When creating your password, it is advisable that you choose a password that is easy enough for you to remember, yet would be difficult for an outsider to guess. It is recommended to combine capital and lowercase letters, numbers, and special characters (!@#$).
Next, the registration form will prompt new users to create a password for the account. The only constraints are that it must include a capital letter as well as number, making the potential combinations unlimited. Yahoo will help the user decide if a password is sufficiently secure by providing an assessment of the strength. In addition to creating one that is hard to guess, it is generally recommended that users change their password every 6-8 months.
Enter your mobile number in the next field box, note that you have to choose your country code to the left of the phone number field.
Yahoo also asks new users to provide a mobile phone number as well as additional email addresses that are active. This will not be used to send unsolicited inquiries but instead helps users access the account if they forget the password or get locked out.
Select from the drop down menu your date of birth.
Choose "Male" or "Female" from the drop down menu. Note that it's optional to choose a gender.
Click on the "Continue" button, another page will show where you have to confirm the phone number you enter on the first page. There are two option:

You can choose to receive the code as a text message.

Via call.

The page will reload, and a field will show up to enter the code you receive via call or text message.
Click on the" Verify" button and you are done! A new page will show up with the following text "Congratulations! You are the proud owner of a brand new Yahoo account."
Click on "Let's get started" button to enter your Yahoo mail page.
After creating your new Yahoo account, you will be able to enjoy all the great tools and features that the service offers. You can login to your YahooMail with your email and password via "login.yahoo.com".
Once the initial information has been entered and approved, the account goes live. Just because it is able to send and receive messages does not mean that the work is finished. There are many additional features or customizable options available through Yahoo Mail.
As email users spend more and more of their time on mobile phones, Yahoo has improved the functionality of mail across many devices. A user friendly app is available for download and works with most major operating systems. This doesn't mean users don't have an excuse for not responding to an email anymore, it just won't be because they couldn't find a computer.
Yahoo Mail App Link: Android App – iOS App